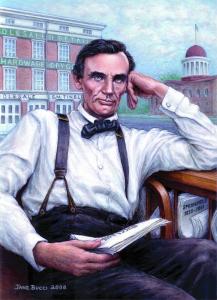 "ABRAHAM LINCOLN of SPRINGFIELD" by Jane Bucci
Collector's Print now available from the historic Lincoln Law Office
and Tinsley Dry Goods store in downtown Springfield Illinois.

www.TinsleyDryGoods.com -- Dana Homann, proprietor

Print Release date: February 12, 2009
Signature: Each reproduction is hand signed by the artist.
Copyright: © 2009 Jane Bucci
Image size: 3 sizes please inquire

Printed by RMD Gallery (www.RMDGallery.com)
The image is archival pigment based inks on premium archival white matte paper.

This honorary portrait of our 16th president commemorates Lincoln's 200th
birthday and was chosen to grace the Bicentennial Lincoln Art Envelope by the
Illinois Abraham Lincoln Bicentennial Commission in historic Springfield, Illinois.
(http://www.lincoln200.net/envelope_art_final.asp)

This painting was originally printed on special limited edition envelopes sold to
raise funds for the...